Presentation Skills for Executives with Andreea Zoia
Objectives
This course has been created to enable executives to speak and present confidently, connect better and build better relationships.
The workshop focuses on 3 main areas: self-image – determines limiting beliefs and mental blocks, voice coaching and presentation skills.
On the premise that we are living in a digitalized world, where information travels as fast as never before, we too, are forced to become sharp broadcasters or presenters. Considering the fast-paced development of technology, becoming better communicators it is a must.
The course presents techniques to organize ideas in pressure situations or when no advance preparation time is available. The core of this course is developing thinking strategies which guide your ability to analyze, organize, and present ideas.
At the end of the workshop, you will be able to quickly organize and structure a presentation, deliver a convincing message without speaker's notes, and provide sound and convincing answers to the most difficult questions.
Benefits of Attending
This advanced two days course will build your current skills in the techniques of making an influential, convincing and successful presentation.
In this course, you will discover:
The "new rules" of public speaking
Connect with your audience in less than 4 seconds
Effective use of visual communication and body language
Apply the law of increasing returns
Plan and prepare a concise presentation for any audience
Deliver with passion, confidence and conviction
Andreea Zoia
About Andreea Zoia
International presenter and speech coach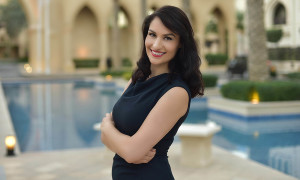 Your ability to connect, form relationships and sustain them determines your success. So, let's talk about your speaking voice, its importance in connecting and its immeasurable powers!
"Our voice is the authentic "fingerprint" of our personalities; it is what sets us apart from the crowd and has the potential to make us shine."
Andreea Zoia
Andreea Zoia is a public speaker, TV Presenter and speech coach. She is often chosen to be the face as well as the voice of international brands. Whilst a public figure, Andreea is on a mission to uplift others' confidence and communication skills through her public speaking workshops and speaking engagements.
She is on a mission to help others find their perfect speaking voice which will enable them to maximize their personal and professional relationships. The foundation for her approach consists of; presentation and non-verbal communication, confidence building and conveyance, speaking style, articulation, and cultivating real connections through meaningful interaction.
Andreea is a regular guest on Joelle Show on MBC1. Formally trained & certified as an NLP master coach from the American international training company Mind Bridge. Andreea counts amongst her mentors, London's Film Academy tutor Peter Purves, Los Angeles based TV presenter Steve Truitt and Romanian celebrity coach Mihaela Tatu. She has also trained in the Meisner & Method Acting styles from prominent instructors and institutions.
She has also enjoyed a multi-faceted career as an actress, and successful brand ambassador, being honored as the face of Emirates Airlines, as a featured character on "The Bold and The Beautiful," and as a presenter for live events featuring brands like Audi, and Hermes. With more than 80 live events completed to date, she is passionate to bring her stage experience to her public speaking workshops.
She lives in Dubai where she currently enjoys her role as the Middle East Brand Ambassador for luxury companies such as Cruciani and Cupid Perfumes. Her goal is to affect an elevated level of energy and communication within an individual, or to enhance productivity and positive interaction among a group.
She believes that attitude and intention can command an engagement – creating a lasting impression – even after the words spoken fade from memory. Her methods evoke the inner strength needed for success.
Agenda
These are some of the qualities that you will acquire by experiencing this workshop:
Discover your voice profile – Understanding your voice, how to use it during a speech or interview, and find your resonance.
Master story telling – Each time we communicate we are either telling a story or are selling. Improving the story telling technique is at the core of sales.
Learn the basic rules of charisma – We influence others by improving our presence/stance and ability to instill trust, warmth and power.
Become a confident presenter by mastering self-image and body image – Learn the A to Z of confidence whilst focusing on the psychological aspect self-image and how it is reflected in the behavior and speech.
Eliminate stage fright once and forever
Role play exercises to instill confidence and learn presentation skills
Present to inspire, educate and entertain
Achieve an excellent level of communication and connection by aligning the 3V of communication: Verbal (mind), Visual (body language) and Vocal (voice – tonality).
Pricing
Ticket Options
| | |
| --- | --- |
| Early Bird Price: Book and pay before 14 February 2018 | US$ 1499 |
| Standard Price: | US$ 1899 |
* Prices are exclusive of 5% VAT
Download Brochure and Articles
To learn more and view the course outline fill the form below to download the brochure and related articles.