Employee Happiness with Tia Graham
Tia Graham
Tia Graham, Founder & Inspirationist, Chief Happiness Officer

Tia Graham is an Inspirationist and the Founder of Arrive At Happy, a company with a mission of inspiring transformation through the science of happiness and neuroscience.
Tia partners with organizations and leaders to grow their business through engaged and happy cultures. She has a Certificate in Happiness Studies and a Certificate in Teaching Happiness from Harvard's Tal Ben-Shahar and The Happiness Studies Academy. Tia is a Certified Chief Happiness Officer from Woohoo Inc., Europe's premier Happiness At Work organization and is a speaker and coach at the annual World Happiness Summit. She is also Certified in Neuroscience from The Neuroscience School. Tia's natural state has always been upbeat and full of gratitude for the experiences and relationships that have helped shape and define her life. However, she faced unexpected turbulence once she had her second daughter and found herself struggling to "stay balanced" while juggling motherhood, work, marriage, friends and her sense of self.
Graham had always dreamed of creating a happiness company and being a catalyst for positivity in the world. When she saw her own happiness dwindling, she knew it was time to grab hold of her life in a new way, and work to turn this entrepreneurial vision into a reality. Tia found her inner clarity during the time of real struggle and knows that this is her calling.
She inspires leaders and people to reach their full potential, live life to the fullest and to arrive at happy – every day.
Topics
Topics that can be covered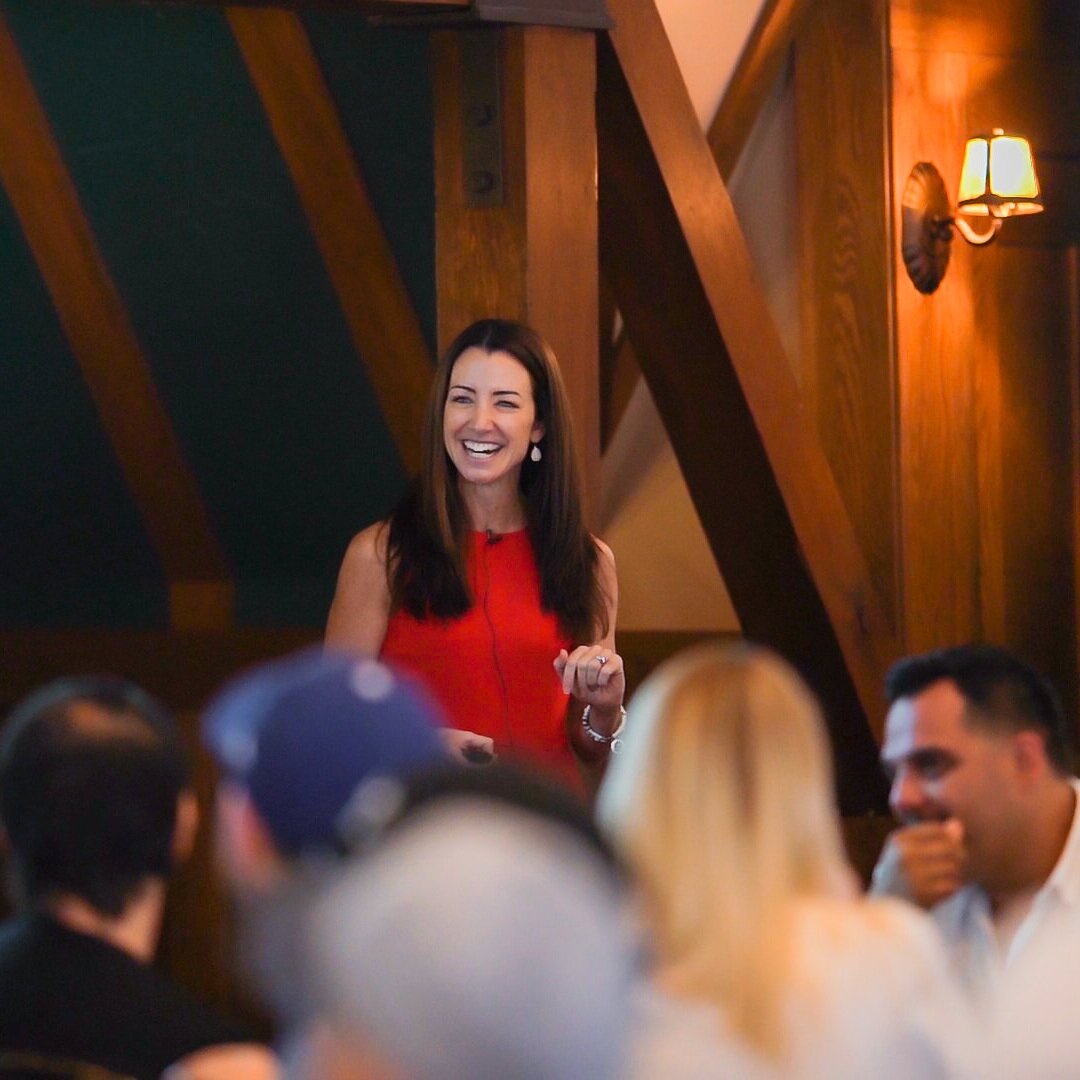 AAH Business Growth Process
Making business growth a success with happiness strategies Tia Graham's corporate training programs are targeted experiences that deliver a subset of the Arrive At Happy (AAH) Business Growth Process. From working with businesses for over 5 years, Tia knows how to close the gaps. Based on your business needs, she will focus on one or more topics to develop your leaders, train your sales team and employees, and increase your customer happiness and retention.
Executive leaders and managers have a lot less control due to everyone working from home. Employees are feeling isolated and their energy is low. The loss of organic and spontaneous in-person conversations is negatively affecting teamwork and innovation. The 24-7 negative news cycle challenges people to stay optimistic and focused.
Executives, managers, and employees are struggling to:
Stay motivated and productive
Maintain a positive mindset
Connect with each other, clients, and stakeholders
Manage stress and overwhelm
Happy Clients
Happy Clients
And many more…
Testimonials
Tia great talk today! Thank you very much for sharing your philosophies and insights with our team. I certainly came away with an overall sense of happiness!
Sean Fitzpatrick, CEO, OTA Insight
Tia led a virtual happiness program for our law firm. She is a dynamic speaker and leader who leaves you wanting to hear more. Tia promised us that we would leave the experience feeling happy and inspired and she certainly delivered. I can't wait to have her back whenever we need a happiness tune up!
Lisa Hamilton, Partner, Hamilton Fabbro Lawyers
Tia did a great job at a recent AAH! event with our sales & marketing teams. We learned some stress recovery tools and gained some great insights. Tia did her homework and customized sessions from which we all benefited. Thanks for helping us strengthen our teams!
Maria Margarita Lopez, Director of Marketing and Partnerships, Variety
I had the honor to have Tia come to my leadership retreat for several years ago and recently hired her again. She is brilliant at what she does and always delivers an amazing presentation. She is absolutely wonderful to work with and highly recommend her to help motivate your teams!
Laura Caroffino, National Executive Director, Color Street
Tia has been enthusiastically supportive of Classic Vacations' Learning Lounge, a virtual series for personal and professional development with our Travel Advisor clients. Her background in the travel industry paired with her ability to motivate and inspire our audience was the perfect match. She hosted multiple topics all tied to a happier, less stressful and more meaningful ways to live and work. We frequently received feedback that Tia's calm, cool and collected presentation style is just the inspiration we needed.
Lynne Chomicz, Director New Business Development, Classic Vacations
Tia Graham was true partner to work with. She is a real professional with amazing high energy, enthusiasm, and empathy! She lit up the "room". Tia is what we all needed in 2020! A breath of fresh air, ahh! Thank you, Tia, for your support for PCMA New York.
Janene Machado, Director of Events, Professional Conventions & Meetings Association
Tia's keynote speech at American Spa's debut West Coast Women in Wellness Leadership Conference was everything we had hoped it would be and more. She provided attendees with tangible takeaways for finding joy from within. Her inspiring message of hope and happiness was the perfect way to conclude the day.
Heather Mikesell, Executive Editor, American Spa Magazine
My team loved Tia! She was enthusiastic, knowledgeable, welcoming, engaging and fun. Tia touched on so many aspects of how to be a happier person in the workplace and home. The team took notes, asked questions, and walked away empowered to be better colleagues. I would definitely recommend her and will keep her mind for future talks at my organization. If your team needs a little morale boost, ideas on teamwork or just a better understanding on how to view life, hire Tia. She tells amazing stories and backs everything up with data and research. She won't let you down!
Christina Rivera, University Director Career Services, West Coast University
Tia's closing keynote on happiness was a hit and was the perfect ending to our customer event. Thank you!
J.J. Wills, Senior Vice President, Marketing Programs & Business Development, Conference Direct
We have received so much fantastic feedback from your motivational talk for our team. Thank you so much!
Stephanie Hinckley, Vice President Sales, Irvine Company Resort Properties
Working with Tia was easy, professional and fun! She showed up prepared, full of energy and nailed it in terms delivering an uplifting and engaging talk. Everyone from our group sang her praises long after she left the event and continues today, the day after the event. She also sent a follow up with tools to use going forward to continue on our happiness journey. She was perfect for our event!
Jodie Howard, Director, Kashi
Tia is a motivating and energetic speaker and presenter. Our group absolutely loved her energy, motivation and knowledge. Tia has a heart of gold and truly loves helping everyone she can get a hold of. We look forward to more of Tia's presentations and coaching in the coming years.
Lydia Snyder, Director, Morongo Band of Mission Indians
I worked with Tia for over five years in a senior executive position and have found her to be determined, positive in her approach, a team player, a coach in many ways to her team and to her peers and someone that views life with a positive perspective. Tia has helped me to develop my own strengths both professionally and personally. She coached me on how to live a more happy and positive life and I have found more happiness and positivity as a result. I feel honored to know her and to be able to work with her daily brings joy into the work place.
Jeff Kulek, Area Vice President & General Manager, The London West Hollywood & Amara Resort