The Developing Internal Auditor
Benefits
Why you should attend
Completing an audit assignment has become a much more demanding role.
Internal Auditors have now to expand their role as facilitators and advisors at the same time demonstrating that they are adding measurable added value.
The course is designed to enable participants to develop the key skills of a modern auditor – communication, teamwork, negotiation, planning and time management – to name but a few
You will also be introduced to the new ideas in the IA profession and how to apply them
After completing this course you will be able to:
PERFORM a self- analysis of your skills and techniques
PLAN assignments effectively
COMPLETE more audits on time
DEVELOP more effective working papers
INFLUENCE management more effectively
NEGOTIATE more successful outcomes
APPLY computer assisted audit techniques with confidence
ENHANCE the value added
Who should attend
Who should attend
This course will be particularly useful for delegates that have previously attended our Essentials to Internal audit course
It will also be very valuable for auditors who now have to supervise assignments
It will also benefit other assurance professionals who want to enhance their knowledge of modern Internal audit practices
Course Details
Course Level
This is a basic/intermediate level course and delegates should have more than 12 months experience in internal audit
No advance preparation is required
Delivery method – On-line-live (with exercises and role-plays to simulate audit scenarios and situations that new auditors will encounter)
CPE credits
Participants will earn 15 CPE credits (in the Management Advisory Services field of study).
Modules
Day 1: Challenges of the Internal Auditor role
The need for Internal Audit to add measurable value
New IIA Code of Conduct
Helping the Board to protect the assets, reputation and sustainability of the organisation.
Internal audit should have the right to attend and observe all or part of executive committee meetings
Internal audit's should review post-mortem and 'lessons learned' analysis if a significant adverse event has occurred
New IIA Audit Executive guidance
Internal Audit needs to add measurable value
The function needs to enhance organisational value by providing stakeholders with risk-based, objective and reliable assurance, advice and insight.
New IIA paper on models of effective IA will be shared
Key messages from the IIA Body of Knowledge survey
ECIIA research paper – making the most of the IA function
Gaining assurance regarding the quality of the function's work.
Exercise 1 – The new challenges facing IA
How can a better understanding of the role be gained?
How can the profile be enhanced?
What does management think of the IA service?
Ways to promote your function better
Communication strategies
New IIA guidance 'What every Director should know about IA'
Opportunities for Internal audit
Exercise 2 – Marketing the evolving IA role
The developing audit skill set
Why auditors need leadership skills
The need for the ability to influence experts
The IIA competency framework
Diplomacy
Open -mindedness
Persuasiveness
Negotiation ability
Self-motivation and self confidence
Decision making ability
Flexibility and ability to co-operate
Effective Time management
Flexibility and ability to co-operate
Self- control
Practicality
Results focus
Investigative skills
Building trust
New IIA paper on influencing skills will be shared
Exercise 3 -  Performing a self-analysis
The different requirements and challenges facing IA
Sector challenges
The need to adapt quickly to new regulatory requirements
Ensuring governance risk is recognised
Smarter use of technology
The move to continuous auditing
Making IA a more strategic partner
Thinking and acting more creatively
Initial Planning
The importance of planning
Stages in planning
Constraints to effective planning
20 questions to aid planning
Preparing for an audit engagement
The need to engage audit customers
Exercise 4 -  Planning an audit assignment
The audit manual
Outline of the key elements
Assignment planning
The audit file
Working papers
Personal learning planner
Guest auditors
Post audit questionnaire
A 64 page manual will be provided to all delegates
Exercise 5 -  The audit manual
Day 2: Delivering an Audit Assignment
Organising the assignment
The key issues in assignment planning
Developing a planning memo for the assignment
Determining an effective time budget
Determining the business process using a model
Determining sources of information
Getting management input
Deciding on the audit team
Allocating the roles
Getting the most out of the team
Determining the potential difficulties
Process analysis
Preventative, detective, directive and corrective controls
Strategies for improving time management
Exercise 6 – How to complete more audits on time

Teamwork
Determining sources of information
Getting management input
Deciding on the audit team
Allocating the roles
Team work and the challenges faced
How to hold an effective team meeting to plan the assignment
Getting the most out of the team
Exercise 7 – Teamwork

Audit programmes
Developing effective audit programmes

What makes a good programme?
Mistakes to avoid
The dangers of re-inventing the wheel
Assigning tasks
Staffing factors
The need for regular updates for standard programmes

Example audit programmes will be shared
Exercise 8 – Preparing an audit programme
Fieldwork techniques
Types of fieldwork
Compliance
Transaction testing
Analytical review
Statistical sampling
Process reviews
Flowcharting
Questionnaires
Workshops

How to decide what techniques to use

How to determine the depth of testing required
New IIA advice on audit sampling
Audit testing
Working papers
Exercise 9 – The challenges of audit testing
Use of Computer assisted audit techniques
The benefits of ACL and IDEA
CAAT's and data mining
Opportunities
Types of test ideal for CAAT's applications
Cash monitoring
Stock control
Payroll
Revenue
Cost comparisons
External comparisons (with external databases)
Branch or business comparison
Worked examples of the use of CAAT's will be provided
Advice from ISACA will be shared
Exercise 10 – Use of CAAT's – group exercise using audits chosen by the delegates
Consultancy and investigations
Consultancy assignments

 The difference in approach
How to document these assignments
Audit by workshop
 Facilitation –do's and don'ts

Investigations – the differences between standard audits
Which investigations should you accept?
The investigation process
Records required
About Phil Griffiths
Phil Griffiths, FCA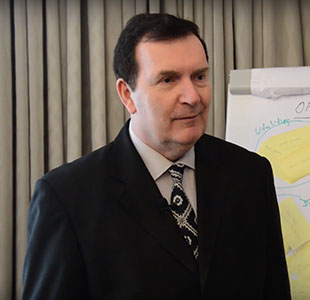 Phil Griffiths is founder and Managing Director of Business Risk Management Ltd.
A Chartered Accountant, he has over 30 years experience in risk management, Corporate Governance, internal audit and fraud prevention as practitioner, professional adviser, facilitator and trainer.
His areas of specialism are:
Assisting Senior Management to identify, manage and then exploit the risks within their business via facilitated business risk management programmes
Helping Internal Audit functions to implement world class standards.
Developing fraud prevention, detection and investigation programmes
Training both private and public sector organisations in all the above disciplines.
He has extensive experience of the European, Asian, Middle Eastern, and African markets having trained professionals from over 1000 organisations in these regions during the past 15 years
He has extensive experience of managing and auditing major International projects. He has also direct experience of negotiating major contracts (including the largest mobile telecommunications contract in the world at the time)
Phil has developed strategic alliances with professional bodies and world renowned training companies, to deliver training and consultancy services across Europe, Asia, the Middle East and Africa.
He has developed over 300 training courses on all aspects of internal audit, risk management and fraud and delivered them across the globe.
He has led risk management programmes for more than 120 private and public sector clients tailored specifically to include facilitated workshops, development of risk strategies and assistance with implementation
He is an accomplished author. His book 'Risk Based Auditing' is an international best seller and his new book 'Enterprise Risk Management – the key to business success' is receiving much acclaim
Phil has published research into many aspects of internal audit and risk management best practice, including "Strategic Risk management" "The Need to Co-ordinate Assurance Providers" and "The Expectations of Chief Executives towards Internal Audit and its future"
He is recognised as an accomplished and charismatic facilitator, trainer and lecturer and is in continual demand to speak at the most prestigious events on risk management, internal audit and fraud.
Schedule Overview
Course Fee and Timings
The fee for the 2-day course is GBP 450 (US$ 600) which includes comprehensive course materials. The course will consist of three 1.5 hour sessions each day.