Robin Sharma Live in Dubai – Global Leadership Forum
13 October 2022
Silver: AED 1500 + VAT
VIP: AED 2700 + VAT
Palazzo Versace Hotel
Join us for Robin Sharma LIVE in Dubai on 13th of October
Robin Sharma is widely considered one of the top leadership and personal mastery experts and speakers in the world with Fortune 500 companies turning to him for his advice. Clients include NASA, Microsoft, Nike, Unilever, General Electric, FedEx, HP, Starbucks, Oracle, Yale University, PwC and IBM Watson.
As a presenter, Robin Sharma possesses the rare ability to electrify an audience while delivering uncommonly original and tactical insights that lead to individuals doing their best work, teams providing superb results and organizations becoming unbeatable.
His #1 international bestsellers such as The Monk Who Sold His Ferrari, The Leader Who Had No Title, The Everyday Hero Manifesto, The 5AM Club, and Who Will Cry When You Die? have sold millions of copies in over ninety-two languages and dialects; making him one of the most widely read authors in the world.
In a one day Global Leadership Forum at beautiful Palazzo Versace Dubai Hotel, Robin Sharma along one other leadership guru will be sharing the latest tools and approaches for successful leadership, maximizing performance and creating synergic teams.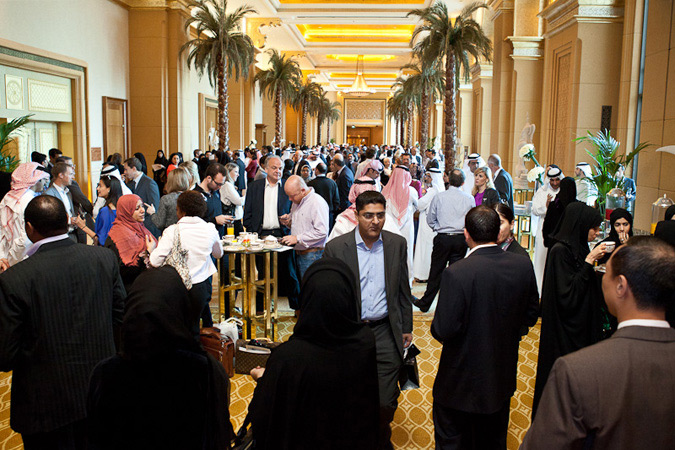 Over 700 CEOs, business leaders and brand owners from around the region will take part in this forum forming an exclusive opportunity to network with the region's leaders.
Don't miss the opportunity to learn, network, and to get inspired by the legendary Robin Sharma on the 13th of October, 2022. Book today on our website.
"Thank you for making a difference to our organization". Pfizer CEO
"Robin Sharma's books are helping people all around the world live great lives". Paulo Coelho
"A superb seminar by a superb speaker. Robin Sharma's soft but hard words made me press the 'Pause' button on my fast-running life and contemplate."
Jamil Ahmed Rinnom, Head of Organizational Development Section, Crown Prince Court
Event benefits
By attending this inspiring event you will be equipped with the latest models, tools and ideas to upgrade your leadership skills and mindset to adopt to challenging times ahead and to make further positive impact in the world.
Robin Sharma will teach you:
8 Winning moves to prosper in times of deep change
How the best performers in the world accelerate peak productivity in the face of digital distraction and post pandemics
Methods that the most successful leaders in the world deploy to stay positive and focused amid growing uncertainty.
Methods to unify teams, produce masterful work and scale impact when competitors are scaling back.
About Robin Sharma
Robin Sharma
Robin Sharma is the celebrated author of 15 bestselling books on leadership. His work has been published in ninety-two languages and dialects, making him one of the most widely read authors and top leadership experts in the world.
Celebrity CEOs, rock stars, top entrepreneurs and royalty have all embraced his work. As well as being a much sought-after speaker globally, Robin is also a widely respected CEO advisor having worked with Fortune 500 CEOs and leaders all over the world.
Robin is the founder of Sharma Leadership International Inc., a firm with only one focus: helping people in organizations Lead Without a Title. Clients include many of the Fortune 500 including Microsoft, Starbucks, the Coca Cola Company, GE, Nike, FedEx, and IBM. Organizations such as NASA, Yale University and The Young Presidents Organization are also his clients. Robin is ranked in the Top 5 leadership experts over and over again. He frequently shares the stage with other thought leaders and is profiled regularly on leading international media such as CNN, MSNBC, BNN and the Biography Channel.
Become a Sponsor
Want to align your brand with the leadership expertise of Robin Sharma and meet 700 C-level executives and aspiring leaders in the region?
Get in touch and we will share the different exhibition and sponsorship opportunities.
"We are delighted to have been a part of this exciting event! The quality of the service your team provided us was exceptional! Overall, a great experience!"
Rajesh Krishnan, General Manager, Sales & Marketing, (Cadillac), Liberty Automobiles Co. L.L.C.
"We are very pleased to have partnered with such a successful and important event. Robin Sharma is truly an inspiration to so many business leaders and individuals across the world and we hope that his seminar has motivated and encouraged the members of the UAE's business community to become world class leaders too."
Mr Ramzi Charaf, CEO, Bank Vontobel (Middle East) Ltd.
Keynote Speaker – Reg Athwal
Reg Athwal
Founder & Chairman, RTS Global Partners and Executive Chairman, TAO Legacy Family Office. Founder & Chief Mentor, Family Business Academy and Fobillion. Best-Selling Author & World Renowned Family Business Advisor.
Reg has personally advised 181 family business groups to date from 1st to 12th generation and directly supported $6.2b+ in revenue growth and equity value for clients. Prior to becoming a leading authority in human capital management and a trusted executive advisor to Family Businesses, Athwal has built numerous start-up and fast-growth businesses since the age of 17, and bounced back from bankruptcy at the age of 21 to build a $20m company by age 26.
He is a World Certified Public Speaker (1 of 500 globally), the Past President of the 'Professional Speakers Association' of the United Kingdom, Fellow Member of the 'Professional Speakers Association' and the Founding Chairman & Past President of the 'Professional Speakers Association' of the Middle East. His personal success stories, case studies, extensive research and best practices have been shared to thousands of students at Harvard Business School, Oxford University, The University of Chicago, Hult International Business School, MIT College of Management, Indian School of Business, Cranfield University and hundreds of other schools.
He is the creator of the 'Unleash Your DNA' international brand incorporating 'The DNA Profiling' & 'Dream Team Models'. He is also the Founder & Chief Educator of the Family Business Academy (FBA), that has educated 20,000 families in 65 countries to date, published 6 books and impacted 3 million employees, students and next-gen members. Athwal also launched the FBA Club on Clubhouse, the largest family business club on the platform, with 200+ live room episodes delivered in the first 7 months and a community built of 5k members.
Since 2002, Athwal has personally chaired and facilitated 2,000+ Board Meetings and Family Forums/Retreats globally for his clients and recently in 2016, completed a record 13 city event tour in 16 days across South Asia, impacting over 1,000 family firms.
He is also a bestselling author of numerous books and published 132 articles on 'Family Business Governance' for leading business publications and portals. His last book 'Unleash Your Family Business DNA – Building A Family Legacy That Lasts Generations' was published globally in Sep' 2017 after completing 15+ years of research on global family businesses and succession planning. His newest book 'The Family Business Messenger' is due for release in January 2022.
In 2016, Athwal was honoured with the 'Disruptive Entrepreneur of the Year Award' at the 'SME World Forum' for building a new business model in the professional services sector and for the social impact made to family businesses.
Athwal is a British born Indian, married, a proud father of four children and resides in Dubai-UAE.
Past Events
Pricing